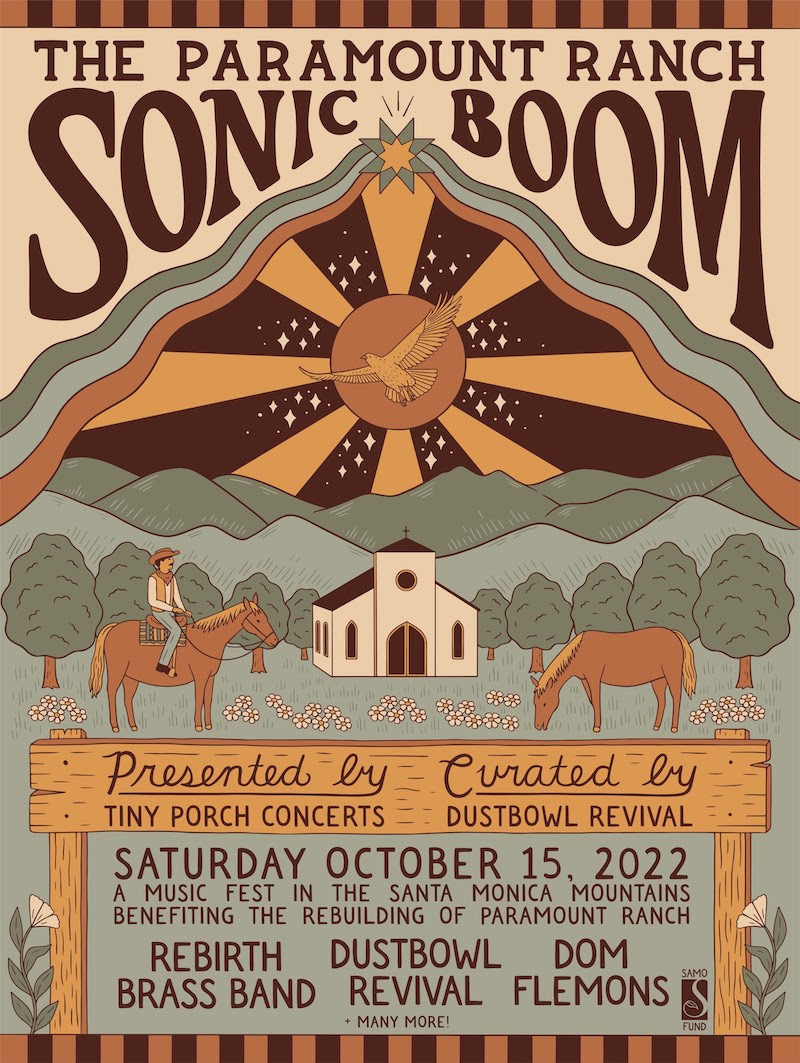 ---
July 13, 2022 – American roots-music collective Dustbowl Revival has teamed with Tiny Porch Concerts to launch the Paramount Ranch Sonic Boom Festival, which will also feature performances from Grammy winners Rebirth Brass Band, Dom Flemons & many more. The special one-day music celebration—presented with support from the Santa Monica Mountains Fund and the National Park Service—will be held Oct. 15, high above Malibu, Calif., at the historic Paramount Ranch in Agoura Hills.
Devastated by the Woolsey Fire in 2018, the ranch—and its "Western Town" section—is a landmark of film and television history, having provided the set for countless classics over the decades, from The Cisco Kid to Dr. Quinn Medicine Woman and Westworld. The proceeds from Sonic Boom Festival will go toward restoring and rebuilding Paramount Ranch.
The festival—a one-of-a-kind event curated and hosted by Dustbowl Revival—is an idea the band has been working toward for a long time, and their excitement at finally making it happen is palpable. They had already thrown five wildly successful virtual streaming Sway-At-Home festivals during the pandemic, featuring more than 30 artists and generating 250,000 views worldwide. "Sway-At-Home made us want to bring the magic of a roots-music festival to L.A. for real," Dustbowl frontman Z. Lupetin says. "Now, with Sonic Boom, a big dream is coming true. After planning and dreaming about this for years, we are finally launching our own music fest!"
In addition to the festival's impressive musical headliners—and the soon-to-be-announced extended lineup of performers—Sonic Boom attendees will also be able to enjoy local craft vendors, food trucks and unique jamming experiences throughout the festival grounds.
Doors open at 11 a.m. on Oct. 15, and the music begins at high noon. General admission passes are $45. A beer-and-wine tasting package is also available for $85 and includes parking, admission to the festival and access to the beer and wine tasting corral from 3-5 p.m. Children's tickets (ages 4-12) are $20, and admission is free for children under 4.
Tickets for the Paramount Ranch Sonic Boom Festival are available here.
THE HEADLINERS: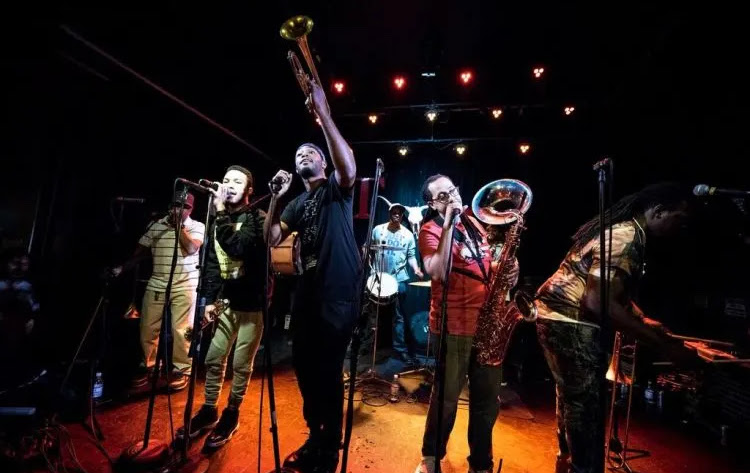 Rebirth Brass Band
Grammy-winning Rebirth Brass Band is a true New Orleans institution. Formed in 1983 by the Frazier brothers, the band has evolved from playing the streets of the French Quarter to playing festivals and stages all over the world. While committed to upholding the tradition of brass bands, they've also extended themselves into the realms of funk and hip-hop to create their signature sound. "Rebirth can be precise whenever it wants to," says The New York Times, "but it's more like a party than a machine. It's a working model of the New Orleans musical ethos: as long as everybody knows what they're doing, anyone can cut loose." In the wake of the sometimes stringent competition amongst New Orleans brass bands, Rebirth is the undisputed leader of the pack, and they show no signs of slowing down. Their latest single "New Orleans Girl"—a collaboration with Cheeky Blakk & fellow Grammy winner PJ Morton (of Maroon 5)—was featured on the soundtrack for NOLA documentary Take Me to the River.
Dustbowl Revival
Dustbowl Revival has always been about pushing the boundaries of what American roots music can be. After celebrating over a decade of sonic adventuring and playing thousands of shows together in ten countries and counting, the group has collected a devoted fanbase coast-to-coast. After throwing five of their own virtual Sway-At-Home festivals during the shut-down, featuring more than 30 artists, the always evolving group of string and brass players led by founding members Z. Lupetin, Josh Heffernan, Ulf Bjorlin are excited to welcome a new wave of talent to the band now that they've emerged from their pandemic touring hiatus. After years on the road, selling out hometown shows at L.A.'s famed Troubadour, headlining festivals and wowing crowds from Denmark to China, Dustbowl Revival has never stopped making their joyful, booty-shaking soul songs and cut-to-heart folk-rock ballads that lift up their transcendent live shows. Dustbowl Revival will be releasing new single "Lying to Myself" this week. Their last, "The Exception," featured Grammy-nominated Americana contemporaries The Secret Sisters.
Dom Flemons
Grammy Award Winner, two-time Emmy Nominee and 2020 United States Artists Fellow Dom Flemons is originally from Phoenix, Arizona, and currently lives in Washington, D.C.. He has been branded with the moniker "The American Songster," since his repertoire of music covers more than 100 years of early American popular music. Flemons is a songwriter, multi-instrumentalist, producer, actor, music scholar, historian and record collector. He is considered an expert player on the banjo, guitar, harmonica, jug, percussion, quills, fife and rhythm bones. Flemons was selected for the prestigious 2020 United States Artists Fellowship Award for the Traditional Arts category, which was generously supported by The Andrew W. Mellon Foundation. Dom Flemons' most recent studio album, Black Cowboys, was reelased on Smithsonian Folkways Recordings and was nominated for a Grammy Award & Blues Music Award.
---
Paramount Ranch
Paramount Ranch was destroyed in the disastrous Woolsey Fire of 2018.
This place is a historic, near century-old movie backlot situated within the boundaries of the Santa Monica Mountains National Recreation Area. It has been the location for many types of a movie productions over the last 100 years—horror, westerns, international dramas, comedies, music videos, adverts and more.
From 1927 to 1943 the site was owned by Paramount Studios who built a number of flexible, simple buildings used as backdrops to so many movies. These were the Ranch's historic structures.
Owned by the National Park Service since 1980, movie-making continues at the ranch to this day. It has also been used for community and private events such as the Topanga Banjo Fiddle Festival , movie nights and weddings for many years. Throughout this year, a lot of eco-restoration has taken place at the site with thousands of native plants and trees being put into the ground to help revive its natural landscape.
---
For press inquiries about Sonic Boom Festival, contact Steve LaBate at Myth Maker.